Gorr the God Butcher will be played by Christian bale , as the villain.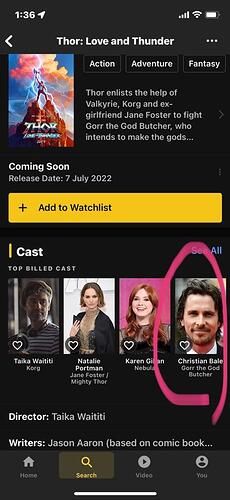 Always looking forward to the movies from marvel… so good storytelling and gets me excited
See how diversified the story telling fr marvel… we have zombies, monsters, multiverse, gods, celestials, aliens, witchcraft , heroes all types… so good
With the multiverse, it's just limitless possibilities now for the director to give the fans what they want…
Well done again, Kevin Feige and marvel
Yes and for me, the villain is key in every movie… Christian Bale sure rocks!
It's gonna be right up there this one…
Looks good! With some comedy scene. Marvels going rock !
1h 30 mins show
Damn…Hemsworth looked more ripped than in the first Thor movie!
Audiences were excited, facebook and twitter was full of , " I've gotta check out Chris Hemsworth's butt! " And they were like, I gotta watch it in imax !

First reviews were in, they were saying it's funny, and Natalie Portman's acting as Thor is "electrifying "….
All were good, Christian bale, Hemsworth, Natalie Portman and even that stone like creature …
Lotsa fun adventure type movie… positive reviews
Yes, mostly positive but some viewers also said the joke and banter not as funny as Ragnorak. Overall still enjoyable.
Bale also talks about how he prepares for a role and why he doesn't like to prepare for emotional scenes.
Time to book u IMAX! Wow now all IMAX 3D! Remember i watched once in 3D before. Forgotten how the viewing experience is …
wah sien leh… 3D not syok!! huhu…
ill skip IMAX… wanted to go IMAX, the Mrs loves Chris Hemsworth! hahahah all the ladies like him… so she wants to watch too… but too bad its in 3D and i get giddy watching 3D
just asked Shaw is there a non 3D IMAX ? looks like dont have
One word to sum this movie: MEDIOCRE
Just caught this latest Marvel flick yesterday…I have to say, I am dumbfounded at the way they treated Thor. Jane foster who became the Mighty Thor is fine but Thor…OM(God)! WTF happened to this OG character? While I can laugh with off some of the silly jokes and antics that the Director is trying to pull off…while Ragnorak has a good amount of humor that made it so charming…but this new Thor movie is a whole new level of goofiness. I simply can't take any of the characters seriously. This is a very divisive Marvel movie for me. I can't say I love it nor can I say I like it. It's lukewarm for me at best. I'll rate this as the 2nd worst Thor franchise in the MCU after Thor The Dark World. I hope the next appearance of Thor will take on a more "serious" tone. Damn, they even made Zeus like a silly clown. Oh no no no…
This is by far the WORST Marvel movie in 2022 for me.
Rating: 2/5 stars
I don't know why they must inject woke stuff in the movie. It's really not necessary.
There were some funny moments, but overall nothing to get excited about. I nodded off a couple of times (my wife also said she nodded off).
The story line is actually OK - Christian Bale's Gorr is not bad, but somehow the movie feels like "same old stuff".
2 post credit scenes to catch.
Rating: 2.5/5
ps. this is a family movie… so many of the Hemsworth family in the movie…

Speaking of funny scenes…I always cracked up whenever the "screaming" goats made their shrilling screams.

Apparently his Mrs isn't quite fond ….
"It came from boredom, sitting in COVID lockdown was like a prison," says Hemsworth, whose routine included swimming, martial arts, weights and 6,000 calories a day to reach Asgardian awesomeness. "It was train, eat, train, eat. Nothing else to do. Then I turned up for the film bigger than I've ever been."
Somehow, there are detractors – including Pataky, who tolerated beefcake Thor.
"My wife was like, 'Bleh, it's too much,'" Hemsworth says. "There are a lot of my male friends who are like, 'Yeah!' but a lot of female friends and family are like, 'Yuck.'"
Just rewatched Thor 1,2,3 on the system yesterday…. Movie marathon before EP4 today at the cinemas
It's actually kids first time watching Thor 1,2,3 and it's nice watching how Thor started off as an arrogant god of thunder to being the matured warrior to his relationship with his brother Loki … so now they know the history of Thor in MCU
They now understand the word "worthy" better, as it teaches them certain things need to be earned
then we quickly watched the beginning scene of infinity war where Loki dies and to the scene where they forged storm breaker
On EP 1, time stamp 21mins, when Mjolnir moves by itself to Thor's hand, like a magnet

, the tactile was solid. U can feel the bass energy moving upwards from bottom to the top of the headrest. Quite a unique scene. Nothing else stood out, only that one particular moment was special
Video on Ragnarok was solid, damn good
Looking forward to watching it today !! Can't wait…