Wah…. Not cheap !! Just for piece of media player and it's in Euros !
I just put up my Audiocom edition for sale

Nice

. Will you be going for the latest version?
If I manage to sell my current Audiocom set, then yes I will. otherwise I won't be able to justify the new purchase

The Zappiti Reference is powered by a massive toroidal power transformer, which provides superior efficiency over standard power supplies and delivers a very clean and robust power source. As a result, the Zappiti Reference provides a christal sharp picture and extreme depth of black, particularly critical in video projection systems. The flesh, sand and grass tones, very difficult to reproduce, are rendered to perfection. The materials are more detailed and the plans are more detached from the others, offering a three-dimensional aspect. Audio outputs are noise-free for more natural timbres, perfect channel balance, for perfect silence in quiet scenes and nuance breathing, and faster dynamic accents. The toroidal power transformer of the Zappiti Reference sonically "aligns" the complex analog and digital signal into something that's properly outlined and shaped. This alignment is responsible for tighter lines and an overall more insightful listening experience.
Signature ……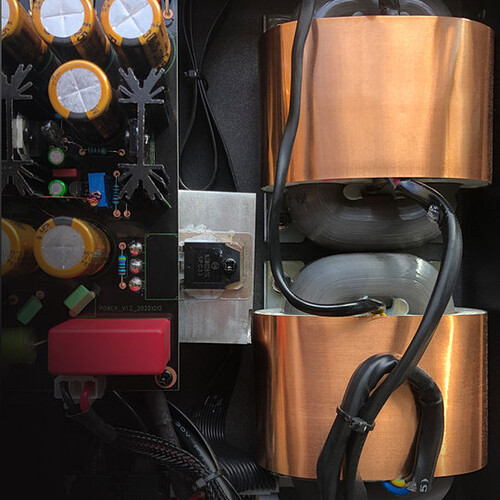 The Zappiti Signature is powered by two massives R-Core power transformers with separated circuits for analog and digital, which provides superior efficiency over standard power supplies and delivers a very clean and robust power source, producing low noise and significantly lower external magnetic field interference than traditional transformers equipped with a laminated steel core. R-cores transformers offer less capactive coupling between primary and secondary (less noise getting through) than toroid transformers. They also offer better efficiency than EI cores. Sort of most of the advantages of both without the penalties of both. Finally, R-cores are more cost-effective than other types. Thanks to this high-end transformer, the Zappiti Signature provides christal sharp picture and an extreme black depth, particularly interesting in video projection. Audio outputs are noise-free for more natural timbres, perfect channel balance, perfect silence and breathing, and faster dynamic accents.
Also….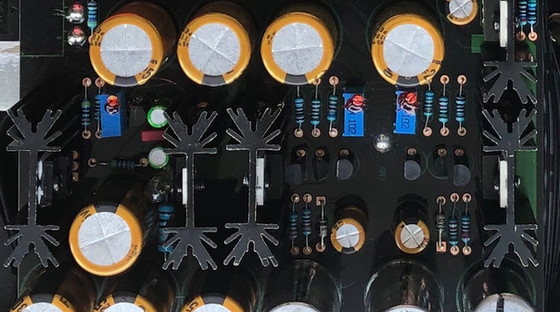 Top-Quality Components
​
The Zappiti Signature also includes Hi-End components from famous vendors such as JEC power connector (used in aerospace industry), Neutrik audio connectors (Germany) Philips diodes (NL), Nichicon Audio Series and Nippon Chemi-Con capacitors (Japan), ERO series from Vishay Roederstein and WIMA capacitors (Germany). Bennic capacitors (Taiwan), WIMA filter capacitors are designed based on low loss polypropylene film and feature high AC capacity at high frequencies as well as low ESL and ESR values.
Top-notch hardware must pair with a top-notch user interface and I certainly hope Zappiti can deliver the latter.
Million Dollar question. Who's getting

My hands a bit itchy now… lol… but will wait and see…
The video quality is good, if have a lot of files playback through HDD
The UI is the biggest concern and show stopper now
Don't scratch just get!
Or wait for me to ask…

if you get what I mean​:smirk:
I heard the same as well but I believe they are looking to a newer theme next year. It was mentioned that android 9 with the upgraded ram(if I rmb correctly), boot up is 8/9secs.
Last few part that reavon boss is previous Zappiti boss
Yes, the increase in RAM from 2GB to 4GB will probably make a difference in terms of the navigation speed. Hope this is the case. But let's be frank, the same old UI with a different theme (skin) will not make the scrapping engine for movie content any better.
For Asian market where we have a large collection of some HK blockbuster titles, Zappiti scrapping engine probably won't work as well compared to Zidoo. But if your content is largely movies from Europe and North America, I believe it should be fine.
Getting the RAM size increased to 4gb should be no sweat , hardware upgrades are possible. But it there is no improvement in UI, then at that pricing it can be challenging.
That is the biggest challenge imo, an improved UI experience is what is needed from the zapitti players
Ok I watched again the whole video. Time stamp 23.55 onwards
I heard them saying 1080 HDR with Atmos for Netflix currently and looking into implementation for Netflix 4K but need to have a certain sets to be sold.
Can't agree with you more on this…
Most people don't buy media player for Netflix integration…most smart TV and streaming devices can do this. What we require and desire from a good media player is the ability to scrap content that helps to organise our library - i.e. music and movies with ease and of course, stellar image quality.
there are rumours that there will be an Audiocom edition released next year. that means the Signature version can still be improved upon

Going through the video and from how I look at it, I'll give this a pass… for the price, personally I don't think it's worth it…
Furthermore I've so many players now, from Oppo 205 to Xbox series X to ATV4K
Will wait again until something solid comes up…