Just came across this Perlisten brand, they look mighty impressive !
Check out the reviews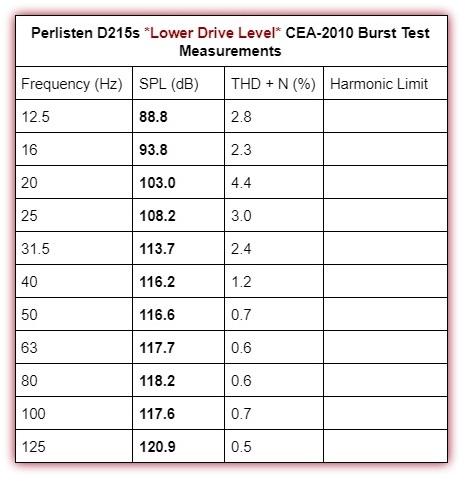 The distortion numbers looks impressive , using the CEA 2010 burst tones to test the subwoofers for distortion.
At 31.5hz, 113.7db, distortion is 2.4% at the place of the author who did the measurements
Price is also impressive ! USD9k !

The D215s enters the strata of audio products where performance is immaculate, much like their S7t loudspeakers , or ultra-low distortion amps such as the Purifi modules or the Benchmark AHB2 or ultra-low distortion DACs with a greater than 130dB range of clean signal output. These are all state-of-the-art products- the very best performance that money can buy for the purpose of sonic accuracy. A system where price is not an object and audio performance is not negotiable could certainly include Perlisten D215s subwoofers. The best of the best is not inexpensive, but the good news is that there are certainly subwoofers that are more expensive than the D215s that would not match its performance. If you want one of the most advanced and accurate subwoofers on the planet per decibel of output as well as per cubic foot of space, the D215s has to be my first suggestion
Perlisten speakers are also very good !
All hail the new king ?? I think so…