I guess we all know the story since it was only a couple of years back. Directed by Ron Howard who is really good at building up tension and evoking human emotions and overcoming obstacles…Like Apollo 13, this is based on a true event back in 2018 when 12 teens and their coach got trapped inside a cave submerged in water, aggravated by the monsoon. The rescue efforts were mired with difficulties but all 13 souls were saved. This is one film that truly brings out the best in humanity and how the world, 17 countries to be exact, came together and worked in unison for a single purpose.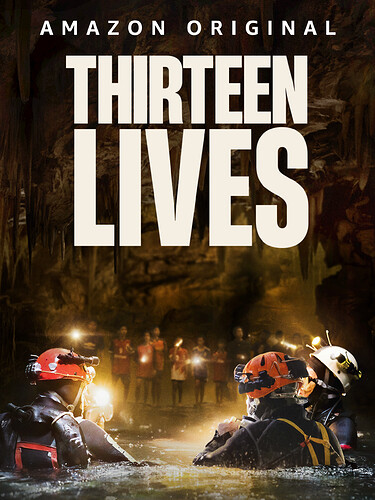 Great 4K transfer and soundmix
Besides the engaging story line, the underwater cinematography looked very realistic. Those who are afraid of drowning and hyperventilating in tight spaces will not feel good sitting through the whole movie. It's about 2hr 30mins long but it did not feel like it because it is very well-paced. This is an Amazon original (taken by surprise) and I am super impressed by the sound mix of every underwater diving scene. It sound and feels like you are experiencing what the divers experienced! It's amazing. Sadly, Amazon Prime has recently opted to go Dolby Atmos-less these days (not sure why though) else this will be a hell of a demo-worthy material. STILL, the Dolby Digital Plus in 640kbps did not disappoint. Make sure to enable Dolby Surround Upmixer (DSU) to experience the most realistic underwater soundmix. It just heighten your senses and bring about a sense of foreboding. I just hope the Bluray or 4K release will contain the Dolby Atmos sound mix.
This is a must-watch for everyone…!