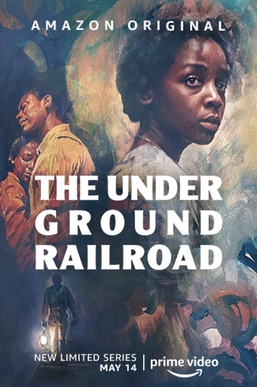 I was a 9-year-old boy when I saw Roots (1977) and the story portraying the sorry plight of African-Americans in the antebellum south hit a raw nerve in me. I might have been a kid, but I felt the full thrust of humans' cruelty towards other humans of a different race. The story stayed with me and never left. Through the years we have been graced by many great films dealing with the same hellish subject matter like Django Unchained (2012) and 12 Years a Slave (2013), so knowing all the grim touchstones of the ugly legacy of slavery and gross institutionalised injustice, I boarded Barry Jenkins' The Underground Railroad (2021) and I am convinced this is an extraordinary story that needs to be told and even studied for many years to come.
Harrowing and devastating, The Underground Railroad will shake you to the core. I showered praises on HBO's Mare of Easttown, and for this one I feel like kneeling down in front of greatness, but yet The Underground Railroad earns an uneasy recommendation from me. This is not made for mass consumption. Nothing about it is entertaining in the basest sense. This one is made with an aim in mind – to make you feel uncomfortable, to make you empathise with the plight of the African-Americans and to make you know that if we are not careful the world will go down in flames.
This is a fictional story of people attempting an escape from slavery in the southern United States in the 1800s utilising a key plot element employing the literary style of magic realism. In reality, "The Underground Railroad" was a network of abolitionists, hidden routes, and safe houses that helped enslaved African-Americans escape to freedom in the early to mid-1800s. In the novel and the series, it is an actual railroad complete with engineers, conductors, tracks, and tunnels. Cora, an enslaved woman from Georgia, joins newcomer Caesar to ride the subterranean train to freedom – taken from Wikipedia.
I recently invested in a laser 4K projector and it is money well-spent because when I ogled at every scene in The Underground Railroad, I was astonished by the visual details. So the first thing you will notice is the colours. It's unlike anything I have seen. The vivid colours have a life of its own. Every scene is lit in an authentic manner, without calling attention to itself. The vivid colours are so life-like that you will catch yourself looking at the fabric of the clothes the actors are wearing and catching the miniature details in every scene.
The next thing you will notice is the enveloping sound design. The Underground Railroad is encoded in Dolby Atmos. Movies and TV series that come with Dolby Atmos can quickly become gimmicky, with the extra dimension of sounds only coming alive at specific scenes. The way Atmos is used here is simply astounding. The trilling of insects, the rustling of leaves from the canopy, the crackling of flames in a fiery landscape, a volley of gun fire, the cracking of the whip as it lands on bare flesh, all have an identity of its own. The astonishing sound design enhances the harrowing tale and puts you right next to Cora as she manoeuvres herself along the arduous road to survival.
Then everything hits you like a sledgehammer. You think you know all the tropes that are associated with narratives about slavery – the violence, the inhuman treatment of humans, the sexual abuse and you question yourself why would you need to relive them. Everything hits you like a force of nature, that we are capable of great kindness and we are also capable of being the worst of ourselves because of an unshakable false self-belief.
Barry Jenkins (Moonlight and If Beale Street Could Talk) trained his humanistic lenses on his ancestors and tells a horrifying but hopeful story of Cora running from her past. However the past has a way of catching up to her. The story made perfect sense – how do you tell a contemporary story about the unfair way African-Americans are treated? You trace it back to the ancestry origin of everything.
In Thuso Mbedu, Jenkins found her Cora. I can't decide whose performance is better, Kate Winslet or her. Both are astonishing performances this year and come award season I have no doubt they will be remembered. Cora is a fascinating character, so tentative and plaintive, but so intense at the same time. Her big eyes hide a reservoir of pain and suffering that signify what all of her brethren are going through. How she is drawn is a class act because she is a reactive character seemingly without a back story, but it is riveting performance like nothing I have seen. The couple of times when I caught her smiling, I smiled with her. She earned those short respite of happiness.
The Underground Railroad is a powerful elegy, a document of a past we must never sweep under the carpet. It is raw, intense and downright essential. This is not something you watch while munching chips and chugging beer. It would do the story a huge disservice. You need to "suffer" with the protagonists, feel the weight of atrocious histories and imbue the disquieting sense of helplessness. I think the best way to enjoy this (I think "enjoy" is the wrong word here) is to get through one episode at a time and give your heart, mind and soul a rest, because each one is so dense and hard-hitting. If you can binge three or more episodes a time, you must possess a superhuman power.
Remember the first scene in Inglorious Basterds where Hans Landa talks in double-entendres that he damn well knows there are Jews hiding under the floorboards of the house and the tension is drawn to nail-biting levels? There are many scenes like that here but they are not drawn to wow or to entertain you. You are going to get slapped with the hopelessness and violence of it all. It may not be a fast-paced entertainer, but it is definitely an important mini-series especially in these trying times.
This being a Barry Jenkins' magnum opus, you are going to witness the Jenkins gaze – actors will stare into the camera directly into your soul. It is especially palpable here because you will feel the grim legacy and past of every African-American. Remember the scene in Macbeth where Macbeth asks the witches where does the line of Banquo end and the latter holds up a mirror to show an endless parade of future kings? Here, when you stare into the blank faces you will feel the weight of their long history.
The Underground Railroad is as thought-provoking as they come and you will start to sense the undercurrent of disquiet flowing just below the surface of your society. This is not easy to watch, but then again, pain and suffering shouldn't be easy to watch.
Board this train. Remember to stop and think when it comes to a temporary stop. Then board it again. You can disembark anytime you like, but I hope you will never leave.
PS – It has been a long time I gave something a perfect score. This one absolutely deserves it.