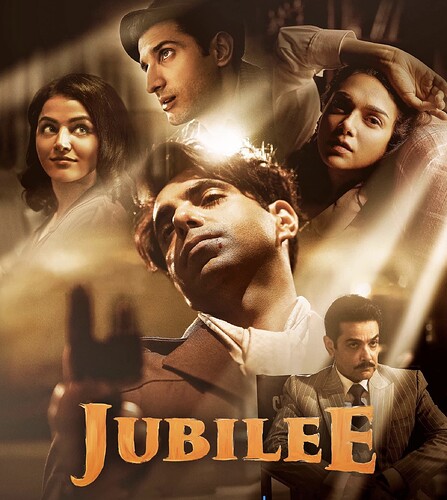 Jubilee begins with the solemn introductions of Srikant Roy (Prasenjit Chatterjee), the movie mogul of Roy Talkies and his wife, equal business partner and main actress, Sumitra Kumari (Aditi Rao Hydari). As the visuals switched from old black and white newsreels to colour, we see a nondescript projectionist load a screen test for Roy's personal viewing pleasure. The monologue features Jamshed Khan (Nandish Singh Sandhu) screen testing for the role of Madan Kumar. It's a great screen test but my attention wasn't on him; my eyes were focusing on the nobody in the projection room. He is staring at the screen, mouthing the lines as they are uttered, probably something he has seen many times from other screen tests. As the scene progresses you will learn he is Binod Das (Aparshakti Khurana), Srikant Roy's loyal soldier and Mr Fix-It. A little later on, Binod is tasked to deliver the screen test by Jamshed Khan to another place because Srikant Roy has found his ideal Madan Kumar. But before he leaves, he collects all the other screen tests and destroys the film negatives at the furnace. This scene is my favourite scene from the first episode – as Binod opens each can and throws the film into the furnace, he recites the lines that we have heard earlier uttered by Jamshed. He says it like he means it, like he was born on this earth to say the words: "I might have made a lot of mistakes in my life, but regretting my actions and apologising is against my principle. So before I lose my last shred of humanity, please leave father." On his mien is the unmistakable face of sheer ambition.
Once in a while, comes a show that is very difficult to write about because words shrink a viewing experience that felt limitless. Yet one feels compelled to say something because one wants to impel others to give this a shot even if others may look at him or her in a funny way. I can live with that because I know what I saw and I know a great show when I see it. I am going to take that risk. Jubilee is that show for me and not since Paatal Lok (2020) have I seen another Hindi series that transcends to the level of art.
The first two episodes are the weeding period. The pace is plodding and there is a lot of information, characters and emotional entanglements to navigate. You are not sure which nugget of information you need to hold on to and what to discard. But I had faith with the storyteller because the attention to details is incredible. If you get past the hurdle of the first two episodes you will be in for a home run.
The story introduces two other major characters, Jay Khanna (Sidhant Gupta) and Nilofer (Wamiqa Gabbi). The former is a budding filmmaker looking for a chance in a place where there is none for someone poor like him. The latter is a courtesan who has the talent and she is not opposed to weaponising her feminine wiles to get her closer to her dream. All five characters will intersect in captivating ways and at times destructive ways.
The show is created by Vikramaditya Motwane (Udaan and Lootera) and Soumik Sen, with the former directing most of the episodes. The story situates in the era before and after the independence, the golden age of Indian cinema. It is a love letter to filmmaking in the past and this part is impossible to misinterpret. You will see the advent of playback singing and CinemaScope. I enjoyed the scenes where the curtain is pulled back to allow us to see how the scenes are shot in the old days. It almost feels like you are watching something forbidden.
Jubilee is more than just that. It is about how there was a time when the world of politics (USA and USSR) encroached into show business because they see Indian cinema as a propaganda tool. It is also the time of the Partition when India's social fabric is at its breaking point with social unrest at its highest. It shows you a world where the government fears the power the studios wield and they thought the banning of Hindi music from All India Radio will put them in their place, but it also shows you the oneupmanship of studios to get their music played over Radio Ceylon instead. In this sense, the show is a wonderful historical lesson of the golden age of Indian cinema from the late 1940s to the early 1950s.
Jubilee is a lot more than that. It is full of character studies, characters who are blinded by ambition and are willing to be treacherous to get ahead. This is a showcase of the power of human self-preservation. Aided by some of the finest ensemble acting I have seen, the characters are never drawn in a cliché way. A case in point would be Nilofer. Hers is a character that is a mainstay of movies about characters who sleep their way to the top, but Nilofer's talent is undeniable and her character earns the viewer's sympathy readily. I don't agree with her methods, but I applaud her tenacity and patience to get to the top. If you think about it, she is the only character who doesn't hurt anyone to rise to stardom.
Technically, this is stunning. The cinematography and editing really pull you into the story. Watch out for those scenes which crosscut between how they are shot and how they look ultimately on the big screen. The music and songs by Amit Trivedi is also a character in Jubilee. I am not well-schooled in Indian cinema of the 1940s to 50s, but I recognised the sound as one reminiscent of that era yet refreshed in a modernised manner.
Above all else, the thematic element that hits me the hardest is how it deconstructs the myth of the superstar from every angle you can think of. In the eyes of the cinema-going populace, the superstar is someone who embodies all the positive human values and they aspire to be him (it is always a "him" in Indian cinema). From the point of view of the studio, the superstar is a commodity, an economic tool with no sell-by date unless the scandal is too big to be swept under the carpet. In the superstar's eyes, he is the nexus of power, money and fame. Sometimes he will get in over his head and wants to stretch his art, but the studio will get him to toe the line. At one point Srikant Roy tells Madan Kumar point-blankly (I am paraphrasing here): "You are Madan Kumar. You are created by me. You are my superstar. Leave the acting to others."
The ending of Jubilee was definitely ruminating in Motwane's mind before he even began shooting it. Hitting a resounding climax in a courtroom, we see betrayals and self-betrayals from all the characters. What I didn't count on was a gorgeous falling action done to a song sung by a young man who has his heart broken by the cutthroat world of the studios. We witnessed the fates of everyone and really… there aren't any surprises, just a deep sense of satisfaction of a story well-told. The characters might hail from a bygone era, but I dare you to think they don't exist contemporarily.
****1/2 /5