Paid a visit to Bryan's (aka Roni) place yesterday and have a blast of time listening to his new AVM 90 setup. His setup and mine are very different and so are the sound and bass signature. I can see he has had spent several hours tweaking his system to his own liking (preference). I'm surprised to hear that despite using the same Anthem product, the sound can be so different. I ascribed the difference to the type of speakers and subwoofers used by each individual. Instead of describing what I "heard" and "feel", I encourage anyone who is interested in Anthem to pay bro Bryan a visit. Enuff said.
Phantom Center Channel
One interesting discovery by Bryan that he shared so "passionately" with me is the use of "phantom center" channel, meaning the "deactivation" of the center channel when watching movies. I have to admit that this is my first time listening to a "phantom center" channel and it does sound "different" and "refreshing" in some ways but it may not be applicable for use in every scenario. The most distinct or stood out to me using this phantom center channel setup is the clearer separation of sound depth and its dimensionality. What this means is that the center channel which can sometimes be over-powering, be it due to the user increasing the trim levels to make the dialogue more intelligible could in a way drown out the sound panning from left to right. If one is to remove the center channel from the equation, one will immediately experience a slight drop in the "fullness" of the dialogue spoken but what you gain in return is a more "balanced" and "cohesive" sound throughout the entire front stage. Yes, it affects only the front stage.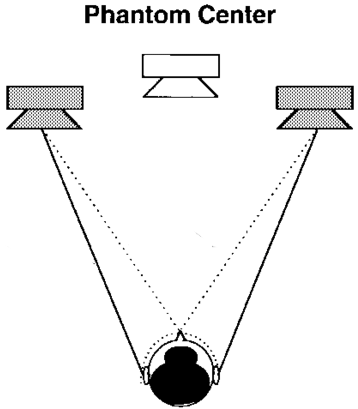 While it may sound cool, there are a few pre-requisites that I will need to mention. Firstly, one needs to be seated at the MLP (prime seat) to make this work. If you sit either on the left or right seat, meaning not in the middle, then this whole "phantom center" channel setup will not work as intended since one is no longer equidistant between the left and right speakers. Secondly, you need a bigger front stage for this setup to work. For instance, it doesn't work for me since my front stage is rather limited in space which restricts the sound panning to achieve a "wider" sound stage.
I would like to hear your comments on any anecdotes of using this approach, can we really do away with the center channel if you ONLY have one MLP or do you think center channel is still a must-have since 65% of the movie soundtrack derives from the center channel to deliver clear and crisp dialogue.
@Ronildoq, perhaps you may wish to share your experience with everyone on your center channel being behind an AT screen and how it affects the overall sound vis-a-viz to your mains. For me, I'll still stick with center channel, what about you? Do share with us your experience.