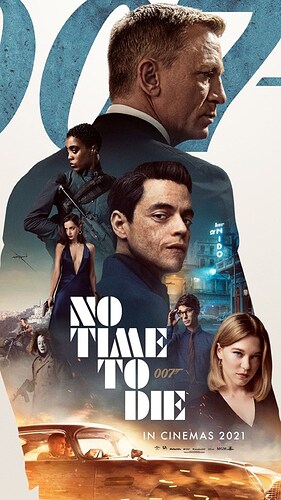 Make no mistake. This is the end. Hold your breath and count to ten.
I was speaking to a friend just before a Pokemon raid about No Time To Die. Yes, I play the damn game. Don't laugh. He said this is a 5-star movie and he added that he doesn't rate a movie 5 stars often. I looked at him with incredulous eyes and he explained where do all the 5 stars go to. One, the action (agree). Two, the story (somewhat agree). Three, the surprises in the plot (very iffy there for me). Four, the scenery (I don't think he mean the girls and I do agree) and five, the closure (I am 100% with him on this).
The 007 movies have always been comfort food for me. Unlike Forrest Gump, I always know what I'm gonna get. 007 movies, pre-Daniel Craig ones, seemed to come out of a factory line with same narrative structure and ingredients that are shaken, not stirred. Every one of them has a megalomaniac with a larger-than-life sidekick, gadgets galore, a multi-purpose car, a tuxedo that never creases no matter how many times Bond takes a tumble, he will utter cheeky epitaph epithets when he dispatches a scumbag ("he just took a giant step for mankind" as the villain floats into space in Moonraker) and women cannot resist his charm. That's probably a better thing to say than women being objectified as sex objects. 007 movies are a male fantasy and I would be lying if I say I don't enjoy them. But that all changed with Daniel Craig taking up the mantle and writers making James Bond relevant in the twenty-first century.
In his final outing as the super spy, James Bond has retired his 007 code name and is living off the grid in Jamaica. His old friend Felix Leiter (Jeffrey Wright) from CIA asks for his help in apprehending a kidnapped scientist. A task that will see Bond face off with old and new enemies, rekindle an old love, while bringing down a portentous bio-weapon scheme.
At 2 hours 43 minutes, No Time To Die is the long goodbye for Craig's Bond. After a 15-year 5-film celluloid journey, we are gifted with a hugely satisfying send-off to the character that prior to Casino Royale (2006) have always been formulaic and at times anachronistic. Craig's Bond shows us a man rooted in the twenty-first century, right smack in the MeToo movement, a man who doesn't smoke, keeps himself fit, loves deeply, gets heartbroken, gets livid at world issues and thankfully still retains his sly wit.
When the proverbial nail to the coffin is announced on screen late in the third act, a deep realisation seeped through my body that I have gone through a 15-year journey with Bond. It is a closure like no other. Previous 007 movies are episodic with a varying degree of campiness, but right from Casino Royale a through-line in terms of plot is maintained and the tone is mostly serious with small doses of wit. With No Time To Die, every loose end is tied up, every "i" is dotted and every "t" is crossed. If you are not familiar with all the preceding films, you won't get everything here.
Epic is the word here. We get an opening action sequence that ranks as one of the best in the franchise. Staple characters all make a grand entrance and in a few cases a heartfelt exit. We get a love story that never ends with sex. We are also introduced to a new 007 who knows the spy game. There is one action sequence that featured Ana de Armas that is sleek and funny, and it has Phoebe Waller-Bridge's (Fleabag and Killing Eve) fingerprints all over, a writer brought in to spice things up. But unlike my friend, I just can't give this full marks.
At 2 hours 43 minutes, No Time To Die felt it could shave off some time because it was so bloated at times. Rami Malek fresh from winning his Best Actor Oscar wasn't given opportunity to shine unlike Javier Bardem in Skyfall (2012). In my book, his villain Lyutsifer Safin is only colourful in his name which rhymes with you-know-who. He carries one expression on his mien and monologues in a low mumble with a crazy plan that sounds like what COVID-19 is doing to the world now. Craig and Léa Seydoux share little chemistry. Their scenes together didn't put my heart aflutter and my loins stayed inert. Thus the emotional impact that is tapped to their relationship felt weak and the stakes in the last act don't hit the mark, at least for me.
Where No Time To Die scores is the action sequences and Cary Joji Fukunaga does know how to pace and situate the action making it exhilarating and thrilling. That said, I had little love for the climatic shootout in the complex because only Bond knows how to shoot straight and for the death of me I don't understand why the EMP doesn't take out his communication device.
Craig has delivered a multi-layered and complex performance. Even a lacklustre villain and weak love chemistry don't detract No Time To Die from being a hugely satisfying conclusion to Craig's Bond. The next installment is literally a blank slate and I am very curious to see where the 007 movies will go from here. The bar has been raised to the stratosphere.