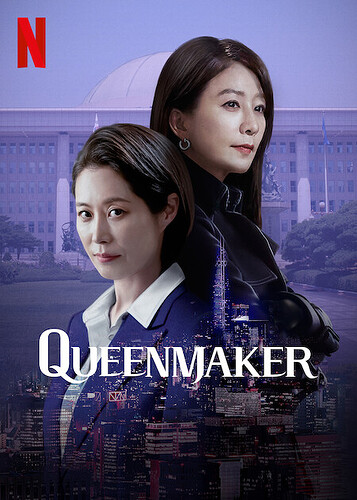 We started this show based on a pal's recommendation a couple of nights ago. The first episode didn't enamour me and I find it incongruous to see the always outstanding Kim Hee Ae as a cold-hearted bitch. The casting felt off because Kim has a unique mien that spells wife or mother of the year. If you have seen The World of the Married you will understand what I mean. When her eyes start to tear, you will want to cry with her. I find it so easy to be sympathetic to her plight like I am popping m&m continuously into my mouth. Here, she is playing a different type of character - she is playing the namesake of the show, a queenmaker. She is a strategist and a makeover artist; her superpower is that she can manipulate the narrative of the populace till you are seeing rainbows coming out of a person's mouth. Then it happened, somewhere in the second episode, I fell in behind her and by now I am walking side by side with her character.
Queenmaker tells the story of two women who used to lead starkly different lives but leave everything they know behind to combine forces and create a just and truthful world. Hwang Do Hee (Kim Hee Ae) is the best in her field of President Identity (PI) consulting and is the leader of the Corporate Strategy Team at Eunsung Group. She takes the lead as general manager for the election camp of Oh Kyung Sook (Moon So Ri) in the Seoul mayoral election. Oh Kyung Sook is a tenacious labor rights lawyer, nicknamed "Ms. Rhino" due to her reputation of plowing through cases like the horn of a rhino in order to fight for equality and justice.
Yes, it's Korean politics and I feel there's no better time to watch this 11-episode show than now, when we have our Presidential elections around the corner. It doesn't matter if it's Korean, Singapore or any part of the world because the world of politics is a Machiavellian one. Smear campaigns are always in full-swing and you will see people eating out of the hands of politicians flashing mega-watt smiles. It is the time of artful back-stabbing. These candidates will smile and hug you like you are their best friend, and when you pull your body away you realise the dude already slash your stomach and your guts are falling out. You will look up at him/her and be thankful it isn't painful. Yes, I hate the season of politics because the worse of people always rear their hideous heads like hydra.
I had an issue with Do Hee's motivation after episode 3 when she mentioned to her ex-boss how she has buried so many innocent people's bodies for her and how the suicide ONE woman can change her character's path so drastically. I consulted Choo and she gave me a very convincing answer. I won't share what she said and let you think about it on your own.
This is essentially a revenge drama and this part is coming along like fine wine. The who is already out and the scumbags getting their eventual comeuppance are characters you want to step inside the TV screen to punch them left, right and centre. What makes them the worst is they are wealthy and powerful, seemingly impregnable. Trust Do Hee and Kyung Sook to bring them down to their knees. The how is not clear yet but I am relishing watching all the gamemanship and manoeuvrings. Choo is also picking up lots of office skills like navigating through the minefield of extra responsibilities and the art of negotiation.
We hit episode 4 last night and Choo asked me at several points when we will be done. I calculated that we should be done by Saturday comfortably. I looked into her disappointed eyes and I knew she wish it were sooner. I can count on the fingers of one hand TV shows that will make Choo ask this question: "when do you think we will be done with this?" Maybe we can make Friday possible.