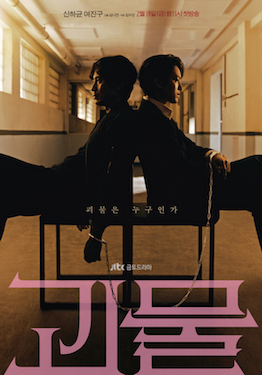 Apparently, I am wrong. Netflix's Move to Heaven is not the first great Korean drama this year; it's the second.
Beyond Evil was released in February this year and totally flew under my radar until a friend told me it won Best Drama at the Baeksang Arts Awards. It also won Best Screenplay and Best Actor.
Beyond Evil follows the story of two fearless men, Lee Dong-sik (Shin Ha-kyun) and Han Joo-won (Yeo Jin-gu), who break the law to catch a serial killer. The killer loves to do butcher-manicure on his female victims; he enjoys cutting all ten finger tips to be given as souvenirs to unsuspecting people. In comes these two dogged detectives who will do anything to uncover the serial killer, and there goes our minds. In the course of uncovering the culprit's identity, they will question the innocence of everyone involved in the case, including themselves.
No one watches this type of procedurals like my wife and I. We were totally involved in the proceedings, shooting out hypotheses like machine guns. The first two episodes didn't grip us but it started to improve gradually. By the time we hit ep6 it totally got under our skin. Heck! Anyone can be the murderer.
Beyond Evil uses the long form superbly well with every aspect, from the atmospheric soundtrack to the cinematography, all coming together in a potent concoction. Its greatest ingredient is the to-and-fro acting of Shin Ha-kyun and Yeo Jin-gu. To watch them is to bear witness to an enthralling performance of synchronised ballet. Shin turned in a nervy and slightly unhinged performance, something you can't quite place a finger on. Yeo, whom I last saw in Hotel del Luna, plays off Shin's wild energy in unexpected ways. In these two actors, the storyteller found his anchor.
The acting from the rest of the cast is also uniformly strong; each character has chances to shine and they all embraced the opportunities, all turning in wonderful story arcs.
I love the twists and turns. They are not ludicrous stuff – wild stuff thought out first and then they weave the storyline to hit those marks. The twists are organic and authentic, something that can come out of the real world.
The cat and mouse games culminated in a final show-hand episode that is satisfying, hitting my G-spot. This one gives you front row seats to what inhumanity humans are capable of. They are crimes against your own kin and blood. The irony hits like a gut punch.