Money milking time…anyone gonna get the LOTR Trilogy in 4K UHD this Dec?
Pre-order here: https://www.amazon.com/Lord-Rings-Picture-Extended-Theatrical/dp/B08KQBYM1Y/ref=lp_2901953011_1_4?s=movies-tv&ie=UTF8&qid=1605481428&sr=1-4
This looks worth it as well, waiting forever Black Friday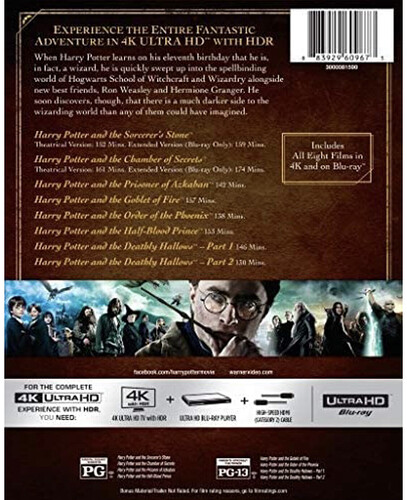 I'm waiting for this , too good the sound mix, and all the kids everytime wanna watch it again and again
Love the soundmix on this one in dtsx

Harry Potter Collection (8pk/4K Ultra HD + Blu-ray) https://www.amazon.com/dp/B075W1LFWP/ref=cm_sw_r_wa_api_fabt1_hUPSFbF7V6QC6?_encoding=UTF8&psc=1
Hobbit trilogy anyone? LoL
I was pleasantly surprised to find that the digital copies of the Back to the Future trilogy was upgraded recently to 4K HDR with Atmos. likewise I am hoping that the same will happen to the LOTR trilogy digital copies

I'm a LOTR fan and would buy the 4k. But at this price, is it really worth it… The BD trilogy cost a fraction of the price now.
I feel like I've seen this trillogy 4K times … that and the Harry Potter series and Starwars movies

LoL…when is ever "enough"?
Amazon.sg is selling the LOTR 4K at S$121.
$40 per disc seems ok except JBhifi is so much cheaper. Really need to educate my relatives there to help send…haha
LOTR 4k disc is really hot, lotsa people bought it during Black Friday
Ya. Just check Amazon.sg, now is S$107!
Tempted.


Yes indeed. $107 is indeed a good price. Waiting for review on how the HDR fare. I'm not too concern about the Dolby Atmos sound mix as I'm pretty sure it will be great considering the original bluray mix was one of the best. But good HDR transfer is harder to come by. I'm also wary that the color palette chosen for LOTR is inclined towards the sepia or muted tone. Hence, I dun expect it to be too vibrant when it comes to colors but sharpness and shadow details must be the highlights for the 4K compared to its bluray brethren.
ATV new bundles for LOTR and Hobbits series with Amos and DV. $44.98 each. Just sharing in case someone is keen.
Pictures courtesy from the net, a quick comparison on 1080p (top) vs 4k version.
On Atmos vs dts sound track, it's a big let down as usual with Atmos tracks , all frequencies below 30hz filtered
See the soundmix on the original dtshd version
Vs the Atmos version
See how bass below 30hz is filtered. Without BEQ, this will be a very boring sleepy movie
The PQ is indeed better on the 4K transfer.
Is the SQ better on the ATMOS on the 4k discs, OR, the DTS-master on the BD discs?
Personally, I prefer the color tone of the 1080p and is happy with the image quality although it's not as sharp as the 4K transfer!
My wife said the same thing sigh,so my hopes of 4K pj are slowly fading I think.
Need to get one on a home trial for a week or 2 to hopefully twist her arm and give the go ahead
My atmos speakers already pushing the friendship maybe.
This weekend plan to finish off The Two Towers and Return of the King (extended edition).