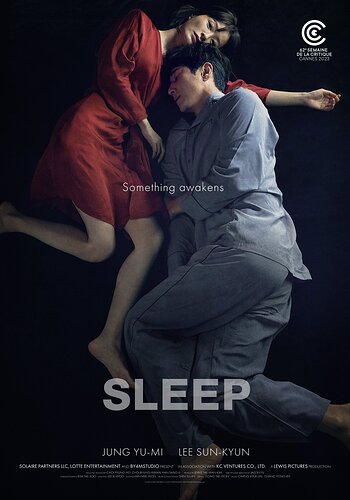 Sleep (2023) begins with a familiar sound. Choo would say it is the noise that keeps her awake on sleepless nights. Seeing me sound asleep, while sleep eludes her, is one of life's greatest ironies for her. That's what she says every time, but I heard nothing that would keep me awake.

This is going to be an easy review to write because everything I want to say can be conveyed in a few paragraphs without dropping any spoilers. Let me first say that this is a wonderful exercise in a genre film and you should see with one other person because you would want to talk at length about that amazing ending which invites two readings. Whichever way you decide to read the jaw-dropping ending, Sleep works brilliantly.
The plot: Pregnant wife Soo-jin (Jung Yu-mi) who becomes worried about her husband Hyun-su's (Lee Sun-kyun) sleeping habits. What starts out as some light sleep-talking soon escalates to unexpectedly grotesque behaviour. They consult a sleep clinic without success and as his nightmarish behaviour escalates, they desperately seek help from a shaman.
Writer-director Jason Yu has worked with Bong Joon Ho on Parasite (2019) and Lee Chang-dong on Burning (2018). He has definitely picked up some tricks from them evidently in the way he racks up the tension and in the way he keeps the audience guessing.
With only two main characters and proceedings happening mostly in an apartment, the movie feels very compact at 95 minutes with nary a wasted scene. There are no superfluous scenes and when the movie ends you will understand why there is a scene of Hyun-su's acting award and other innocuous ones.
Above all else, Sleep is a Lesson 101 on how to shift tones effortlessly. Neatly divided into three chapters, the narrative starts off as light comedy, shifting into marital drama, then into a thriller mode and finally morphing into something I never saw coming. The ending effectively sells two possible readings. Is this a story of marital relations, sleep disorder, demon possession, post-natal depression or the greatest battle by a couple trying to save their marriage? Whichever side you take, the story works but I know how I want to read it. Watching this superb debut feels like watching the star of Jason Yu gradually going supernova. It all begins here and I am witness to it.
**** / 5