Its been a long tiring year for everyone, covid-19 and very fast we are approaching year end.
Having completed my journey, as i have shared in xtremeplace, i am now able to help another fellow member, Nivlahog with his journey. Niv is a HT enthusiast, just like me. He had a Rythmik FV18hp sub with KK subs, audio control Dirac processor, but struggled to dial in the system. He approached me for some advice, and after diving into the details, i decided to help him.
The first problem, was mixing sealed subs with ported subs, of different make. I made that same mistake many years ago, so i could feel his frustrations. My advice for him was simple, keep it simple, get the same subs. Or at least, get both sealed subs or both ported subs.
Niv loves his midbass, he couldnt part with his KK. I can understand. So the suggestion was for him to ditch the fv18hp, and go for the F18. He was quick on the move, immediately, 2 F18s arrived and FV18hp was history.
We went through the entire step by step process from
Gain optimisation
Room Acoustics
Subwoofer placement
Integrating subs
bla bla so on so forth, all these done remotely, through video call. He is a happy man today, we got the entire system up and aligned, and he was extremely delighted with the set up.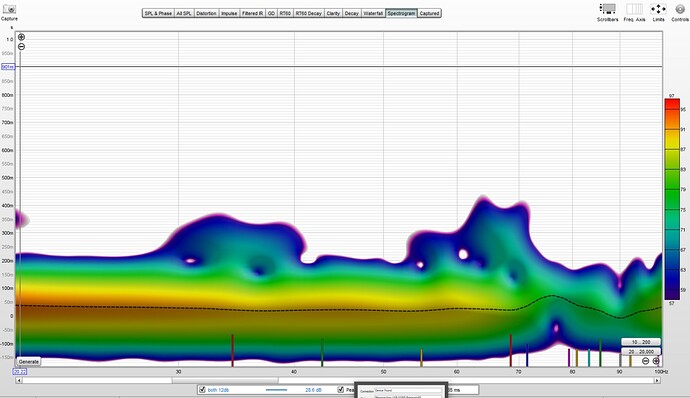 the above is the spectrogram in Alvin's room, post calibration. You can see how good the decay, with the linear dotted line for peak energy times. It was a long journey, but a fruitful one.
many people will be dying to get that type of response in their room. Niv was no exception, it was the best to date in his dedicated room.
However… there is still room for improvement, i shared with Niv again, that he MUST go with an Acoustic Transparent screen where speakers and front height atmos speakers are tucked behind the screen.
So i hosted him and another member (also planning for PJ), for a demo to test out the pros and cons of having an AT screen recently. I advised both, that this is the way forward for HT, set and forget, live with no regrets
So here we go again… Ill be sharing his Journey here, (of course with his consent), and i hope this will help everyone else in their HT journey. We will go down to the very basic stuff from wiring, electricity, noise control, vibration control, screen material, pj, subs, calibration, Dirac Live, gain optimisation, PJ calibration SDR/HDR, acoustic, SMT you name it.
My goal is to bring out the best in Niv's room. Boy, i think im more excited than him

Stay tuned, i will share all the details along the way