@85inch, for the moment, no other options from other Japanese marques to do a Mano-2-Mano shoot out with Sony. Chinese makes like Hisense UX range and TCL X955 yet to make to the shore of the market where he's in… of course, Sony wins.
i vaguely remember Digital Trends did shootouts more than Stop the FOMO does… so for a fair review, i would often goes to StF 1st rather than DT.
For what it's worth, here is Vincent's review of the X95L, I rate Vincent above both FoMo & Caleb @ Digital Trends.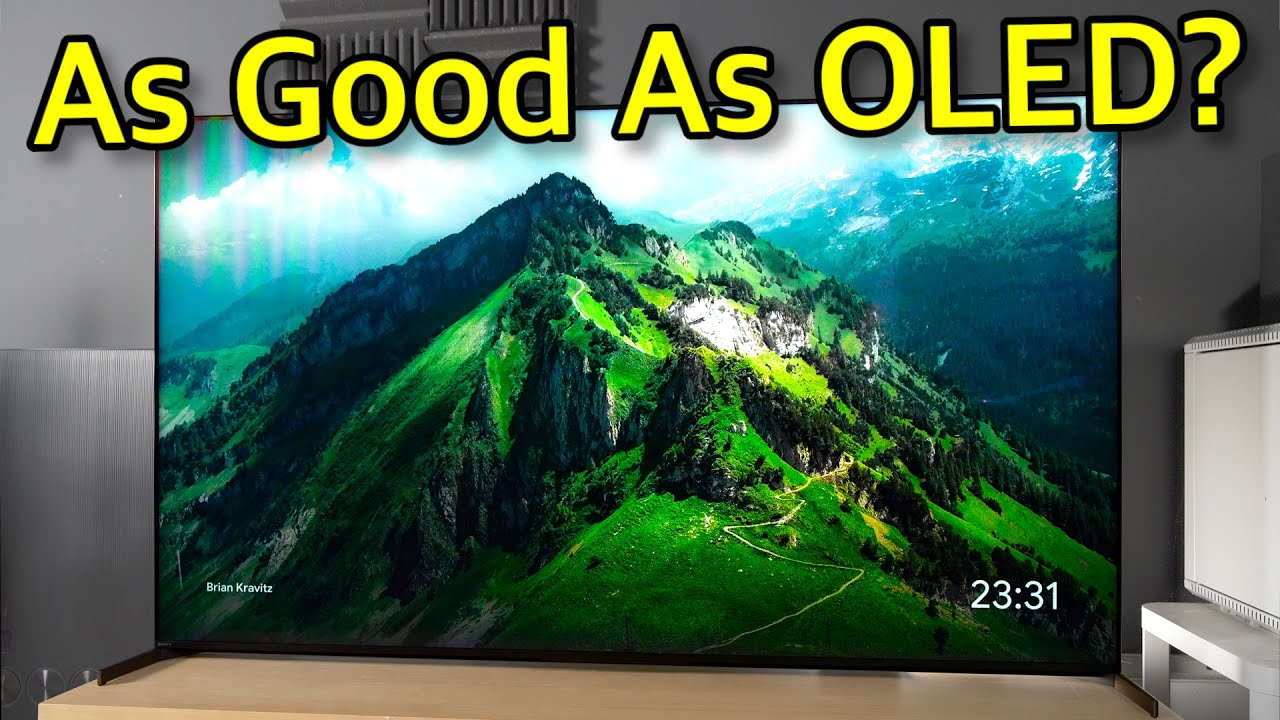 for the moment, SONY is taking pre-orders for the 85X95L miniLED TV @ the price of $10K

while the 6000nits HiSense 85UX recently encountered by Vincent is also taking preorders @ $10.5k

it seems to me that they're waiting for TCL to disclose their final price on the 5000+ nits 85X955 hence they're holding the status @ preorders.
The Sony X95L has been on sale for quite a while bro, not on pre-orders, the one that is still on pre-orders is Sony A95L QD-Oled flagship.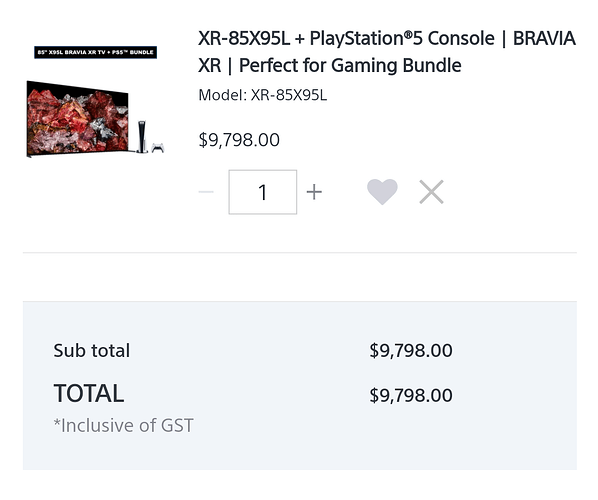 Current best deal is $9798 for 85" X95L AND Playstation 5 bundle.
Sony being Sony they ain't waiting to price their tv based on HiSense or TCL…if only they did though, i really wish that would be the true case😭.
minus the cost of PS5, the 85X95L could go as low as towards the $9K borderline where it might inspire other manufacturers to adjust their price to beat SONY sales.
the "young" in market Chinese marques, will sure wanna strike a punch to "Dai-Lou" of this sector… HiSense price will eventually be adjusted, so as TCL. PHILIPS 9308/9008 range is yet to be sent to NEA for energy efficiency assessment, so i guess… potential buyers can still wait, probably before X'mas to see how "Premium miniLED" pricing will comes to.
Can't wait to see TCL X955 85" reviews & pricing.
I really hope they have improved significantly on their algorithm & processing & also fingers crossed it's the same premium quality across the globe & not just US version.
locally, TCL and HiSense will not list the ID of the internal system like what the European counterparts do.
however, TCL seems to be using the Pentonic700(which comes in 2 different grades, "high" MT9653 and "basic" MT9618)… it's just we need to observe thru unboxing and review clips that are from the Asia-Pacific region for the details rather than U.S. and Europe.
Same here too.
Looks like vincent rates it v highly. Good news.
Sony has always been tops in their picture implementation and it's renowned local dimming algorithm.
I'm glad the x95L is pulling it off well.
I'm curious how much is the blooming symptom in dark scenes on the x95L. If indeed sony can control it well, this is the LED LCR tv to beat for PQ. I've auctioned high end mini Led TV models (which has high peak brightness). But the blooming was very bad and unbearable.
Anyone knows how much roughly is the 75" ?
a pity that SHARP didn't take a conservative big step in releasing 85" model into global market but rather keep 'em available to Japan domestic market.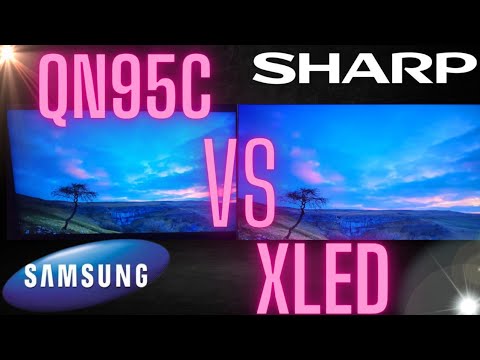 here is the comparison with Samsung's high priced miniled… and SHARP manages to win some positive reaction.
big retailer tagged $8K, with discounts, minus $500.
Thx bro. Wah so ex.
At this price point, can buy 77" OLED liao.
OLED is cheaper than this because there are unlimited supplies from different vendors of panels. to make thing more confusing, u wouldn't know the panels are from Korea, or "Korean Lisenced part" from other low cost countries.
miniLED is different as it takes different layers to construct a panel… even though LED irregardless of the diode size, is cheap when compared to organic OLED.
At that price point of $7k, i would choose a 77" OLED any time unless the viewing environment is 100% bright room.
OLED's individual pixel control gives perfect blacks + OLED panels can hit the 1k nits mark nowadays.
Hope the price of mini LEDs will go down.
[quote="Foodie, post:16, topic:1085, full:true"] …OLED's individual pixel control gives perfect blacks + OLED panels can hit the 1k nits mark nowadays.
Hope the price of mini LEDs will go down.[/quote]
price of miniLED is currently driven by import volume. we, local consumers like to compare, such that we can get better deals. hence we would likely to compare with markets where their currency is lower rate than us, such as Australia, Malaysia, Indonesia as well as Thailand… only if one knows where to look for. previously, a PHILIPS 75" miniLED was shared in other forum by me that goes under $3K early this year…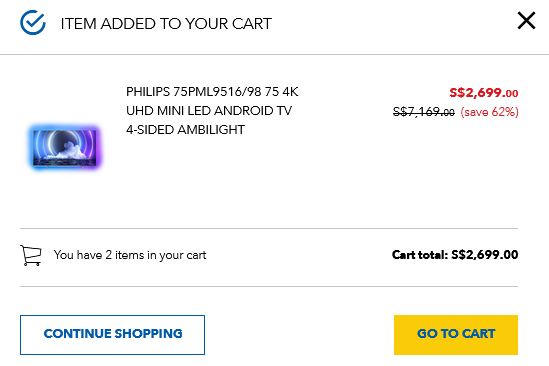 …and that was a 2021 model, judging on the model reference.
is miniLED going down?
probably yes and probably no.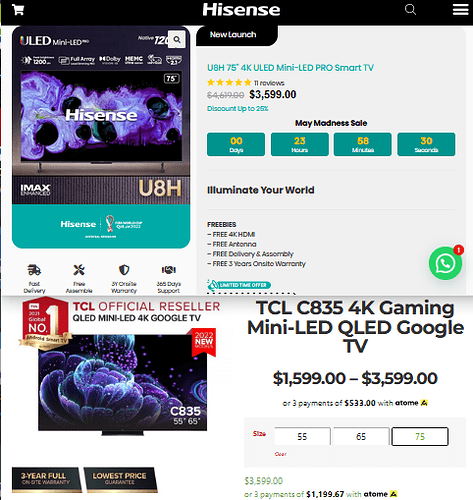 for the moment, you can get a very good deal, if one is acceptable to a model that is a year old… and of course, not a very "established" marque considering that they're still "young" in this market, and what kind of negative feedbacks that you encountered from so call "users" in various platforms.
on the "no" side of things, as i had mentioned, if the demand is low, shipments is certainly low to able to suppress the shipping costs. one another considering factor, will the aftersales service be good if the servicing staff can't handle the new engineering product, instead of just changing the system board?
(yeah… i had that kind of experience with OEM model from PANASONIC, a very very well established manufacturer with the replacement TV made by SKYWORTH, few years back. out of anger, i spent $700 instead to get a AIWA TV made by ChangHong, and that TV lasted and beats the 3yrs warranty period limit, now continues to run in my mother's place… what a pity, i might had chance to get a replacement if that model breaks within the 3yrs period)
undeniably, OLED have better blacks even if u had brightness tuned way up to the max, since the black areas will not light up if there isn't any "hidden values/data" in the source. but does that capability applies just to OLED? what i can say is that OLED have better "bloom/aura" control rather than brightness control to get good blacks. there are alternate ways to get good blacks even with big diode LED backlight. it's just that the adjustment will affect little parts of the image where contrast and brightness may not a major concern.
After watching plenty of reviews of the X95L and comparison videos I can say the following about the TV:
Blooming is better than last year's X95K.

While blooming might be even better in some other competitor TVs (Samsung mini-led and TCL mainly) they tend to crush shadow detail too, that extra level of blooming control comes at the cost of crushing blacks altogether, so dark scenes aren't great on those tvs. Side by side comparison shows Sony's superior shadow detail.

While perceived brightness is higher overall on the TCL's & Samsung's flagship LED offerings…the Sony has more accurate colours and skin tone, so again TCL & Samsung has sacrificed on something else in order to get brightness noticeably higher than the X95L, the X95L is still plenty bright though.

Strictly in the 85" catergory…the Sony's QC is head and shoulders above Samsung and TCL, the 85" model of X95L gets premium treatment as the panels are hand selected & held to the highest standards of uniformity and quality, the out of the box accuracy on the 85" X95L is also second to none.

And ofcourse Sony is still king in the processing department, motion handling, backlight dimming algorithm and colour reproduction.
In saying all that, they are definitely priced steeper than competitor flagship Mini-LED models, they also don't add all the bells & whistles in like TCL do. I guess it comes down to how much one is willing to spend on PQ and find value in a purchase like this. They aren't exactly gaming kings either in comparison.
not really a fair fight.
SONY, in it's highest "Throne of Best" should be facing the challenge against HiSense UX, TCL X955 and Samsung QNED95.