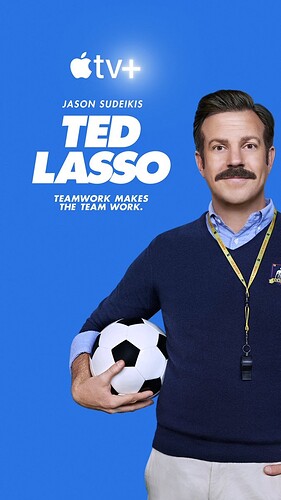 Looking out of my metaphorical window, I see the parochial and jingoistic views of governments; I see bleak landscapes and fractured lives, hear laments of lost loves and jobs; I glimpse into the cold, hard and plastic sea of the modern world – cash machines, alienation and solitude. I hear the screams of the dispossessed and disenfranchised, the stinging buzz of nothingness. Numbers screamed back – no community cases, zero numbers from dormitories but ten imported cases. Hope comes in small doses and sometimes it can come in the form of a man. The man's name is Ted Lasso and he comes bearing gifts of optimism and promise.
Who would have thought a Ned Flanders lookalike could cheer me up? Ted Lasso on AppleTV+ is a godsend. I did not expect it to work, but it managed to charm my socks off with one of the most endearing and empowering portrayal of a football coach totally out of his depth in terms of tactics, but up there with the gods when it comes to coaching men to be the best versions of themselves both on and off the pitch.
The story premise is born from one helluva cockamamie scheme. The new owner of AFC Richmond Rebecca Welton (Hannah Waddingham) engages Ted Lasso (Jason Sudeikis), a successful American football coach, to drive AFC Richmond to the ground in order to get back at the previous owner, her cheating ex-husband. He brings along his partner-in-crime Coach Beard (Brendan Hunt) and together with kit-man Nathan (Nick Mohammed), they form the most unusual coaching team on TV. In the locker room, there's tension brewing between the egotistical top player Jamie Tartt (Phil Dunster) and the has-been captain Roy Kent (Brent Goldstein). To stir the pot, there is also Tartt's model girlfriend Keely Jones (Juno Temple). Lasso has his eyes on the whole team and even if he does not know football, he believes he can lead them to victory.
With his kooky moustache and Kansas twang, Jason Sudeikis' portrayal of Ted Lasso won me over with his awww-shucks sweetness and rainbow sincerity. Lasso doesn't do tough love, he believes in empathy and in giving the old-fashioned listening ear to aggrieved parties. Taking a character that could easily be a cartoonish parody, Sudeikis will make you feel for him through all the highs and lows. This is the perfect demonstration of the redemptive comfort of simple, straightforward decency and dare I say a showcase of a different type of masculinity for this age.
Ted Lasso is also genuinely funny in a sweet way. The ensemble cast is filled with many colourful characters offering many engaging performances. Perhaps, the only spot I wished it had been more successful in is as a biting satire of the English Premier League, but it has time to milk that cow in the next season.
In a horrid year of bad news, Ted Lasso is a rejuvenating rainbow after a torrential storm. It is the hope and positivity we sorely need. Come for the cockamamie idea, but stay for the warmest moments and see how kindness can actually change the world.